We're sponsoring the Crusaders Charity Cricket match again!
Please read our COVID-19 Update, especially if you have received your COVID-19 vaccination recently. Continue to scan the QR Code at the front door before you come in, and contact us if you're unwell and need to reschedule. If you have travelled to Australia and were in Melbourne, or elsewhere in the Victoria state after 11 May, please ensure that you have followed the directive issued by the NZ Government and get a COVID-19 test if required. Please do NOT come in for massage if you have chosen not to follow the directive.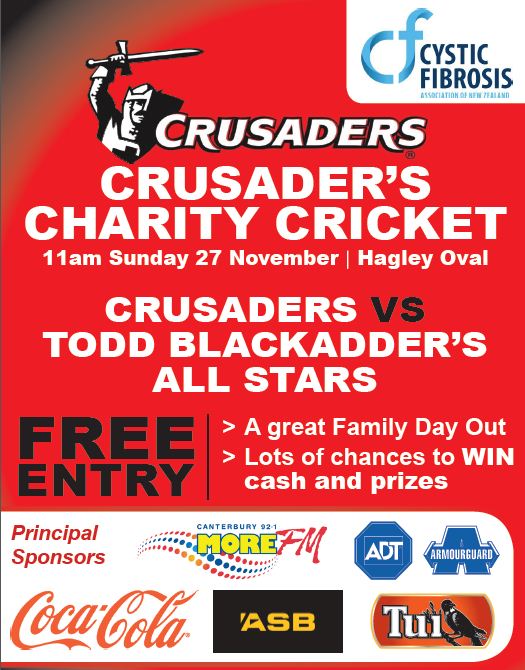 ***** NEWS FLASH *****
This just in: Bodyworks Massage Therapy is sponsoring big Wyatt Crockett this weekend for the Crusaders Charity Cricket match this weekend! We can't wait to see him in action, smashing some balls around the Hagley Oval and raising money for CF.
For those of you on Twitter, there's an invite here too: http://twtvite.com/w3d9e1
The Cystic Fibrosis Association of New Zealand along with it's long time friends at the CRFU are thrilled to announce that the mighty Crusaders, led by Andrew Ellis will once again take to the pitch to battle it out against Todd Blackadder and his team of "All Stars" at the South Hagley Oval.
This free community event is a great way to finish the year on a positive note and bring people together for a great experience. They'd like all Cantabrians (and those from further afield) to participate in this fabulous event. There will be entertainment both on and off the field, food, refreshments, music and more at this iconic family day out. It's a great chance for the public to get up close to some of New Zealand's favourite celebrities while helping out young people with Cystic Fibrosis, NZ most common genetic condition, affecting 1 in every 25 New Zealanders.
Bodyworks Massage Therapy is delighted to again be a Player Sponsor for this worthy cause, and most excellent day out. Last year we were fortunate enough to sponsor Robbie Fruean, whose cricket skills, unfortnuately bore no resemblance to his on-field rugby prowess. We can't wait to see who we get to sponsor this year. Izzy maybe? Or Kieran or Wyatt? Or even Robbie again? Whoever it is, it'll be fun.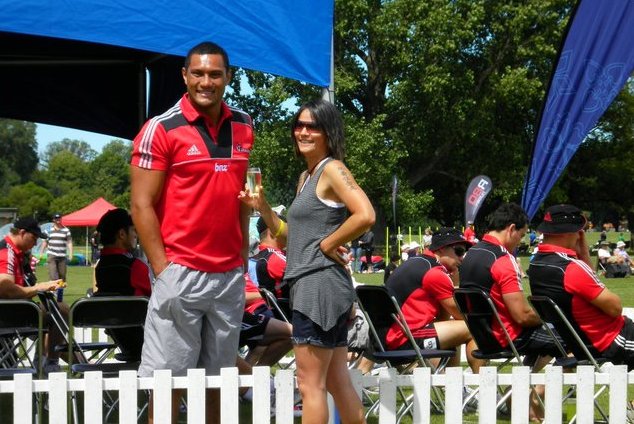 So, mark that day in your calendar and make it a family event. There's loads of fun for everyone. And bring your credit card too. There's an auction with lots of Crusaders memorabilia up for grabs as well as plenty of other great gifts. And it all goes to support the Cystic Fibrosis Association of NZ.
Posted: Tuesday 1 November 2011