Our Services & Costs
We are now open under new Delta Alert Level 2 requirements. Please read our COVID-19 Update for more information. 
We also have roadworks affecting access to the clinic from September-December 2021. Please read our Roadworks Update.
Read on to find out more about the types of massage you can receive at Bodyworks Massage Therapy. We've broken them down to two groups – therapeutic massage and thermal stone massage. We also offer gift vouchers for all services.
Therapeutic Massage
Your first session will begin with a detailed consultation before the actual treatment. Subsequent sessions will have a short consult prior to the massage to ensure the treatment plan is still appropriate to give the results you're looking for.
You can book for one of the following sessions (all prices include GST.)
30 minutes - $50
60 minutes - $90
90 minutes - $130
30 minute appointments are available for follow-up sessions only.
Your massage session will always be tailored to your body's actual needs and agreed to by you. Unless you specifically want full body relaxation massage, your massage may include various styles incorporating:
| | |
| --- | --- |
| Deep Tissue Massage | Applied deeper into the soft tissues (muscle, tendons and ligaments) to give you a therapeutic effect. Can help if you have chronic muscular pain or postural dysfunction. If you have areas of scar tissue within the muscle, it will help to break it down and increase your mobility. |
| Sports Massage | Uses a variety of techniques for pre-event, post-event or to assist with your recovery during training and to improve your performance. If you're competing in any sport or physical activity we can help you keep your muscles and your body in top physical condition. |
| Neuromuscular Therapy | A systematic approach to reducing muscular pain by restoring balance to your nervous system and your muscular system. If you have long standing chronic pain or dysfunction, NMT can help reduce or even eliminate that pain for you. |
| Trigger Point Therapy | Trigger points are tight bands in the muscles, tendons or ligaments which restrict movement and refer pain or sensation such as tingling or numbness to other, sometimes unrelated, areas of your body. You probably won't even know you've got them until we find them for you, but once we do, you'll thank us for releasing them for you. |
| Relaxation (Swedish) Massage | The style that most people relate to when they think of massage. Using massage strokes that are designed reduce muscle tension and calm the nervous system, you'll leave feeling relaxed and refreshed. |
Click here to book your therapeutic massage appointment online.
Thermal Stone Massage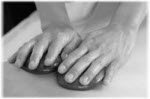 Thermal stone, or hot stone, massage uses the power of heat to literally melt your muscles.

Smooth stones are heated and either placed on your body, or held by the therapist to perform the massage. They work by either by gliding over the skin, or by using deeper pressure to engage the muscle tissue or to treat trigger points. The heat will also increase the metabolic activity in your muscles. What does this mean? Simply put, the heat will help improve the health and performance of your muscles.

It's fantastic to relieve tension in your muscle from stress or overwork, to help you during post-event recovery or to provide you the chance to have full body relaxation - because you deserve it!
You can book for one of the following sessions (all prices include GST.)
60 minutes - $105
90 minutes - $145
Click here to book your thermal stone massage appointment online.