Our Services & Costs
Read on to find out more about the types of massage therapy you can receive at Bodyworks Massage Therapy. We've broken them down to two groups – therapeutic massage and thermal stone massage. We also offer gift vouchers for all services.
Therapeutic Massage
Your first session will begin with a detailed consultation before the actual treatment. Subsequent sessions will have a short consult prior to the massage to ensure the treatment plan is still appropriate to give the results you're looking for.
You can book for one of the following sessions (all prices include GST.)
30 minutes - $55
60 minutes - $95
90 minutes - $140
30 minute appointments are available for follow-up sessions only.
Your massage session will always be tailored to your body's actual needs and agreed to by you. Unless you specifically want full body relaxation massage, your massage may include various techniques, including those commonly referred to as deep tissue, or neuromuscular therapy, or myofascial release.
Your session may also include recommendations for home-care such as stretching or strengthening, and ideas for making small adjustments to your work or home environment to help you feel better over the longer term. You may also receive information to help you understand better what might be going on in your body to create the discomfort or injury. This information will be based on the best evidence we have available to us.
Remember, while massage therapy can leave you feeling great, it's only an hour and we can't work miracles - as much as clients wish we could.
Click here to book your therapeutic massage appointment online.
Thermal Stone Massage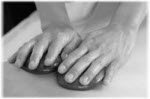 Thermal stone, or hot stone, massage uses the power of heat to literally melt your muscles.

Smooth stones are heated and held by the therapist to perform the massage. They work by either by gliding over the skin, or by using deeper pressure to engage the muscle tissue, or by being placed on your body.

It's fantastic to relieve tension in your muscle from stress or overwork, to help you during post-event recovery or to provide you the chance to have full body relaxation - because you deserve it!
You can book for one of the following sessions (all prices include GST.)
60 minutes - $110
90 minutes - $155
Click here to book your thermal stone massage appointment online.