Welcome
At Bodyworks Massage Therapy it's all about results for you.  Whether you're a "weekend warrior" who hits the streets, fields or hills and want to go faster, harder or longer, or if you want to relieve the stress and strain of a hard week at work or running around after the kids – we can help you get your body working.  Book online or check the schedule for our Christchurch based clinic now!
(If you're new to us and book online, please complete the New Client Intake Form after you've booked using the button above.)
We'll work with you to develop a personalised massage treatment plan to help

you achieve your goals, whether you want to:
reduce your pain or discomfort

treat your injuries
enhance your performance
decrease your stress levels
simply relax and take time out for yourself
We use a variety of techniques which will be combined to provide you with the best possible treatment - whatever your condition or issue is.  Techniques we may use with you include:
Deep tissue massage

Sports massage
Neuromuscular therapy
Trigger point therapy
Mysofascial release
Swedish/relaxation massage
Thermal stone therapy
Lymphatic drainage
If you suffer from headaches or migraine, if you feel like you're carrying a lot of tension in your shoulders and upper back, if you ever get tingling or numbness in your hands or fingers, have sciatica, or lower back pain, or you just know that your body isn't moving the same as it used to, then massage therapy can help you.
If you exercise regularly, especially if you compete in events, therapeutic massage will help you recover faster, reduce the risk of injury and can even help you run, bike or paddle faster or pass, punch or kick harder!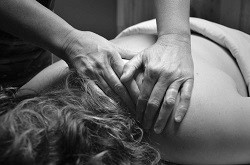 To find out more about these techniques, please check out Our Services page.
We may also take you through range of motion and/or orthopaedic tests, various stretching techniques and use heat and/or ice treatment on you when appropriate.
And most importantly we will also help you learn more about how your own body works, so you can understand not only why the treatment works, but how you can help yourself get your body working!  So get moving - check our schedule and book with us now!
---