Last minute Christmas idea?
Please read our COVID-19 Update, especially if you have received your COVID-19 vaccination recently. Continue to scan the QR Code at the front door before you come in, and contact us if you're unwell and need to reschedule. If you have travelled to Australia and were in Melbourne, or elsewhere in the Victoria state after 11 May, please ensure that you have followed the directive issued by the NZ Government and get a COVID-19 test if required. Please do NOT come in for massage if you have chosen not to follow the directive.
To order, simply email us with the name of the person you will give the voucher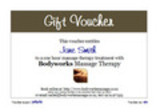 to so we can personalise the voucher for you. We'll give you the bank account number to pay into online and
we can email you the voucher as a PDF so you can print out yourself.
Easy, peasy and you don't even have to leave home to buy it.
So, give a gift voucher to someone you care about this Christmas. Order now.
*T&Cs - you must order and pay for a voucher for a 60 minutes session. Applies to all gift vouchers purchased up to & including 24 Dec 2010
Posted: Wednesday 22 December 2010